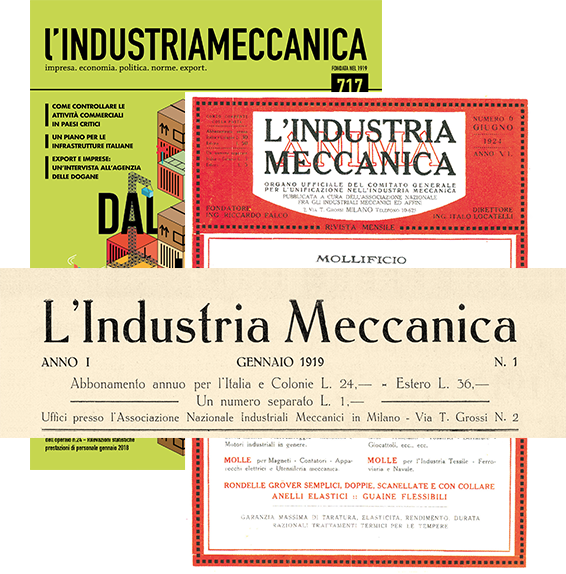 THE HISTORY OF
L'INDUSTRIA MECCANICA
January 1919: L'Industria Meccanica, the magazine of the young ANIMA – founded only 5 years earlier – was born to give a voice to one of the most dynamic sectors of the country's economy. The launch of one of the longest-lasting magazines on the national scene was thanks to the first president of ANIMA, Giovanni Silvestri, and the then General Manager, Riccardo Falco, the true founder of the magazine. The aim of the publication can be gleaned from the first editorial column: a means to communicate with shareholders was needed because "it is difficult to bring them together because they are unwilling, due to the natural but deplorable reluctance of us Italians, to accept invitations of this kind".
In a short time, the magazine ceased to be a medium for shareholders only and became a tool of communication for all Italians working in the mechanical engineering sector. In this contest, it made a contribution to the industrial revolution of the twenties and helped business to grow and acquire credit on international markets. In the early fifties, L'Industria Meccanica accompanied the country's transformation from an agricultural economy to an industrial one, focussing strongly on articles concerning economics and technology, but also on columns written by renowned specialists in the sector and from various organisations. This coherent, effective style was maintained with few changes until the seventies, when the magazine introduced current affairs.
In 100 years of history, one element has brought continuity to the publication: the commitment to promoting Italian businesses on domestic and international markets, respecting the rules and defending consumers. It is for this reason that L'Industria Meccanica is considered a flag-bearer for the "made in Italy" brand, dedicated to promoting the strong points of the world of mechanical engineering.